The 12th biannual Engelhorn family reunion was held August 6&7, 2004 at the Best Western, Hood River Inn in Hood River, Oregon. Our organizing committee for this event was Steve and Sandi Englehorn; and Darrell and Sylvia Russell.
Located about 60 miles east of Portland on Interstate 84, the Hood River Inn is right at the river's edge on the Columbia River at the heart of the Columbia River Gorge National Scenic Area and offers a variety of activities and an abundance of natural beauty.
If you'd like to add either a personal story from your time at the reunion, or if you have photos to add to this site, contact Jim Schrempp and we'll arrange to get them out here.
More information will be available here later, in the mean time, enjoy this photo taken Saturday August 7.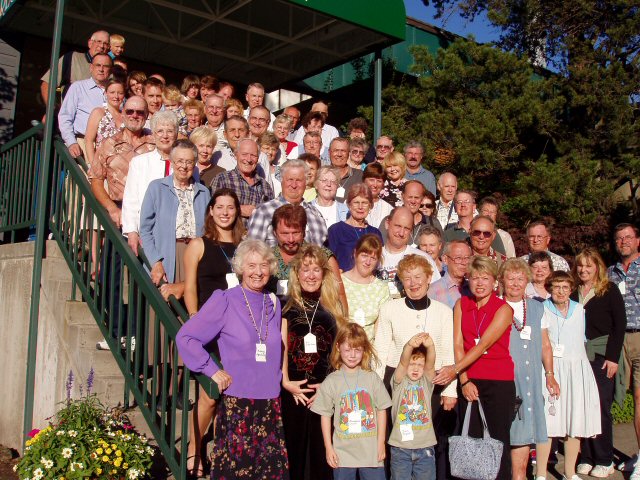 If you'd like prints of this, you can buy one from oFoto. I uploaded a high resolution file to oFoto so you can get any size print up to 8x10. Just click on this link, or paste this into your browser: http://www.ofoto.com/I.jsp?c=jszwi.am3ct60v&x=1&y=-718d1b I used oFoto to print the last 2002 group photo and it came out great.
If you have a printer at home, you can Click Here to get the full 1MB file.
---
This page © Copyright 2000-2004 by Jim Schrempp for the Engelhorn Family and cannot be reproduced without explicit written permission.